ʻOhana Activity Box 2
Aloha at Home
We are excited to have you and your family join Aloha at Home with ʻOhana Activity Box 2. It is filled with Aloha Activities that will help you learn about and practice Serve & Return with your family. Each box is valued at $100+ and recommended for ages 3+. Boxes are sponsored for your ʻohana by Aloha at Home. Click button below and complete a short survey.
Confirmation of Box 2
Social Media Challenge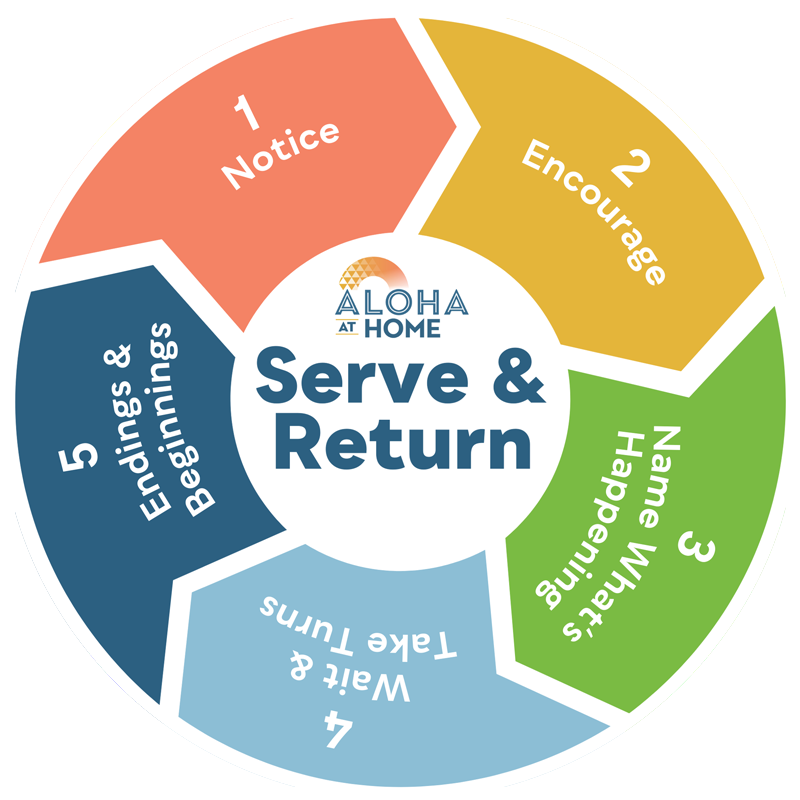 What is Serve & Return?

Serve and Return is when your child smiles at you, and you smile back. When your older child or another adult seems sad, and you take the time to sit with them and chat when they are ready, this is Serve and Return. Even adults need to help practicing Serve and Return. Think about Serve and Return as a lively game of ping-pong, showing that caregivers are sensitive and responsive to signals and needs of those around them. Serve and Return builds healthy relationships and strong brain architecture to last a lifetime. In five easy steps, you can practice Serve and Return.
5 Easy Steps to Serve and Return
Confirmation of ʻOhana Activity Box 2
Fill out the short survey to make sure you remain on our list for future ʻohana boxes. Scroll inside the survey box to complete the survey.
Contents of the ʻOhana Activity Box 2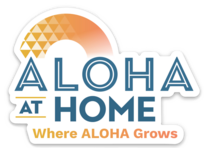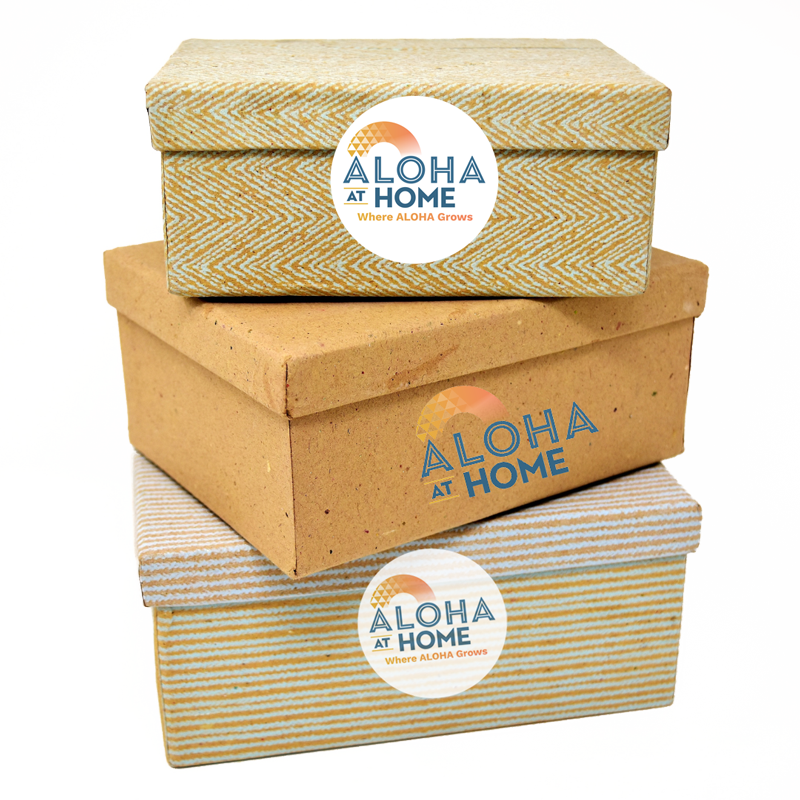 Aloha at Home Box 2 focuses on definitions and examples of Serve and Return to engage your family in positive interactions.  Click images below to download a pdf copy.
Serve & Return Flip Book – spiral bound book that explains Serve and Return and games you can do as a family. Download a copy below.
2 – Hanu Hā Stickers – reminder to breathe. Put my sticker somewhere visible like water bottle or ipad
Kūpuna Book Corner – Spend quality time reading the book Too Many Mangoes with an older family member, caregiver, or loved one. Ask each other: "What are ways you share with others?" and "How do you feel after you give to others?"
Family Card Game – Taco Cat Goat Cheese Pizza – This card game is a fun way to practice serve and return with hilarious interactions. This game is a natural way to bring families together.
Emoji Emotions Activity- Take turns showing each other what the emotions look like with your face and body.
Koʻu Kino Poster – My Body – Pehea ʻoe? How do you feel today? Show me where you feel the emotion in your body? Take turns placing the emoji on the poster and talk about feelings.
Click on the booklets and brochures below to download a pdf copy.
Social Media Challenge
Enter to win! On Facebook or Instagram, do the following challenge to win a gift card. Do all 4 items below to enter. Unlimited entries until June 30, 2023. Winners will be announced in July 2023.
Post a photo of you and your ʻohana using Aloha at Home Box 2 together (i.e. unboxing, doing one of the activities, etc)
Describe what is happening in the picture and how it brought aloha into your home.
Tag us @alohaathome
Use the hashtags #alohabox2 #alohaathome
More ʻOhana Activities to Try
Values of Aloha
The following Aloha Values helps us to understand Aloha with greater depth, so we can practice Aloha more where it matters most, in our homes.